New online enrolment enquiry form
Are you interested in looking at St Agatha's for your child? Just complete our online enrolment enquiry form here and we'll be in touch.
Enrolment Enquiry
Welcome to St Agatha's Pennant Hills!
As a member of system of schools known as Catholic Schools Broken Bay we seek to inspire hearts and minds to know Christ, to love learning, to use their talents to be the very best they can be.
Our principal, teachers, staff and parents all work together with the wider community to deliver authentic, professional Catholic education with care and compassion.
Our teachers are committed to the mission of Catholic education and apply evidence-based practice to support students to learn and to gain the confidence and skills to enable them to be involved in shaping their society.
DO YOU NEED TO BE CATHOLIC TO ATTEND A CATHOLIC SCHOOL?
No, your child does not need to be Catholic to enrol at a Catholic school. While preference is given to students of the Catholic faith, particularly if you are active in your parish, our schools welcome families from all backgrounds or faith traditions who share in our mission and purpose.
K-12 Enrolment
Catholic Schools Broken Bay has commenced the rollout of a K-12 enrolment program, providing parents with children in our system of primary schools a streamlined pathway through to our secondary colleges. Please refer to your school Principal for further information about which schools currently offer a K-12 enrolment pathway.
Catholic Schools Broken Bay Secondary Colleges
Mercy Catholic College, Chatswood
St Joseph's Catholic College, East Gosford
St Brigid's Catholic College, Lake Munmorah
St Paul's Catholic College, Manly
St Peter's Catholic College, Tuggerah
St Leo's Catholic College, Wahroonga
Mackillop Catholic College, Warnervale
Thank you for your interest in St Agatha's Catholic Primary.  We welcome enrolments at any time.  
Enrolment Procedures for St Agatha's Primary School
We are currently accepting enrolments.  Enrolment forms can be downloaded or collected in person from the school office.
Enrolment for kindergarten students is based on the premise that the child turns five no later than 31st July of that year.
Please download and complete all of the following documents then lodge with the school office:
Enrolment Checklist
St Agatha's Online Enrolment Form
St Agatha's Enrolment Form - Downloadable Paper Copy
Consent Form
Language Survey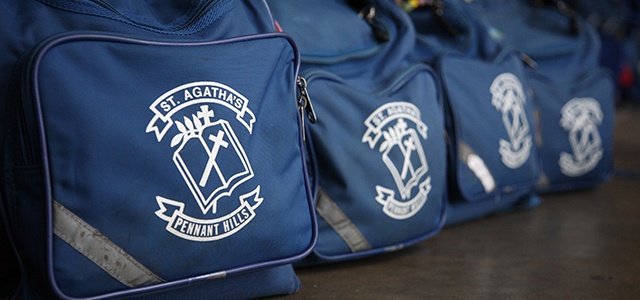 To support your child's transition to school, we offer two compulsory consecutive orientation days as well as a parent information evening which allows your child and yourself to meet their extended Aggies family.  If you have any questions at any time during this process please do not hesitate to contact us:
Email: saph@dbb.catholic.edu.au
Tel: (02) 9484 7200
Fax: (02) 9484 8235
2021 School Fees
Standard Collection Notice
COVID-19 Fee Relief
Catholic Schools Broken Bay are committed to supporting families as the impact of COVID-19 continues to be felt in the community. No family will be excluded from our school because of financial difficulties.
Even if you have not enrolled yet, we would like to offer the following help with school fees if you need it:
A full reduction on ALL fees if your family gets JobSeeker.
A 50%+ reduction on ALL fees if one parent in your family gets JobKeeper.
If you are unsure if your family can get fee help or need assistance completing the form please contact our COVID-19 FEE HELP HOTLINE on 9847 0728 (8am – 4pm Monday to Friday).
Please find the 2021 Fee Relief Request form here and return to us at schoolfees@dbb.org.au