St Agatha's Catholic school has a rich tradition which began with Good Samaritan Sisters at the Parish School of St Joachim's in Yarrara Road, Thornleigh in 1928.
Today the school still enjoys a strong connection with the Good Samaritan community through the work of Sister Pat who assists the teachers and students in many of the classes. We share the Good Samaritan moto:
"In all things may God be glorified"
At St Agatha's Catholic School we value our role as a Catholic school in enhancing faith development, providing a welcoming Catholic community and being an integral part of the St Agatha's Parish.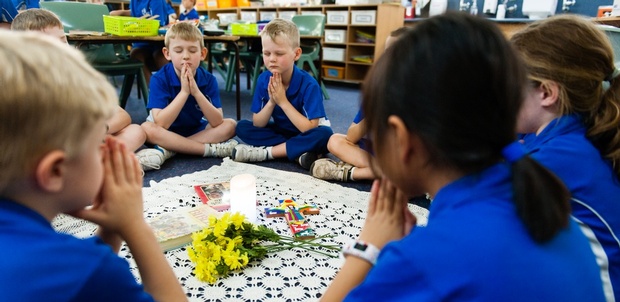 We fulfill our mission by regularly attending Mass both as a year grade and as a whole school, provide daily religious education lessons, teach our children the traditions and rituals of our faith and integrate our Catholic values throughout our curriculum.
The formation of students in Catholic discipleship is a major aim of our school and our mission commits us to: Create a community in which all members experience a sense of welcome and belonging based on authentic Christian hospitality, provide a safe and caring environment to learn and play and respect the dignity of each person in an environment of justice and inclusion.
The prayer life at St Agatha's is an important and regular part of every day for the children and staff, achieved through daily classroom prayers, weekday parish masses, assembly prayers, whole school masses and whole school liturgies.
One of our main aims at St Agatha's is to present an inspiring and challenging education that is distinctly Catholic. This is expressed through living out our Gospel values by the school's involvement in social justice initiatives.